OUR OFFICE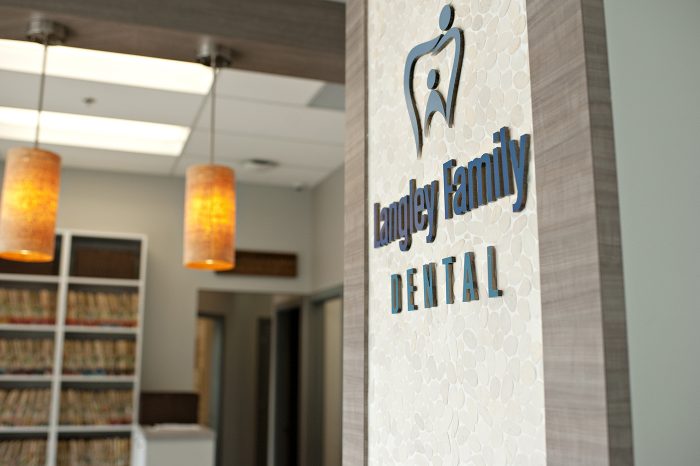 At Langley Family Dental, we strive to provide the highest quality dental care in a relaxing and comfortable environment. Everyone knows going to the dentist can be stressful, that is why we do everything possible to ensure your visit is as comfortable and enjoyable as can be.
Our contemporary office space is sleek, comfortable and we do our best to create a welcoming atmosphere where you can feel relaxed and stress-free. After all, we've developed close relationships with our patients over the years, and we want to ensure they feel at home every time they come in for a visit. We take pride in our commitment to excellence, our professional expertise, and the high quality of work that reflects the best that the art and science of modern dentistry has to offer.
We genuinely care about our patients. Every interaction is friendly and gentle, and the needs of the patient always come first. It's an approach that sets us apart, giving us that "special something" that attracts people to our office – and keeps them coming back.
Why Choose Our Office
Picking a dentist isn't easy, so we've compiled a few reasons our existing patients have chosen our team;
Our dentists experience and expertise means they are able to treat some of the most complicated procedures and rarely have to refer to specialists which can save you a lot of money and time! We do children's dentistry, invisalign, surgery,  implants, root canals and even sleep dentistry!
Our office has invested in and utilizes the most up-to-date technology for your safety and increasing quality of work! For example, digital x-rays, VELscope CANCER SCREENING and ceiling mounted tvs
We charge by the BCDA fee guide which is one of the lowest in all of Canada.
We design a treatment that addresses your specific needs. We recognize that each patient is different, so our approach to designing a treatment takes your individual needs, personality, and history into account. When you join our practice as a new patient we take the time to create an individual treatment plan that best addresses your needs and aligns with your expectations. Each treatment plan is designed to address immediate concerns while preventing future dental problems.
Your Schedule Will Be Respected -Your time is important. We offer flexible hours so we can accommodate visits around your life
Last but not least: Our dentists and hygienists are the nicest and most caring people you will ever meet!
Our Facility
We try our best to make dentistry comfortable for you. We want you to feel good about coming to see us. From our welcoming waiting area to our modern operatories, our facility is designed for your comfort. Private treatment rooms equipped with TVs to help pass the time. Self-contained bottled water system ensures the water we use in your mouth is safe at all times.
For your safety, our sterilization center is state of the art.
We are handicap/wheelchair accessible.
We have parking spaces for our patients conveniently located in front of our building next to our main entrance.
So, let us be your family's dental team for years to come!
Financial Policies
Visa, Master Card, American Express and debit cards accepted for your convenience.
Our office direct bills your insurance company which saves you time and headaches. For the ones we don't, we are happy to fill out all the required paperwork and mail your insurance claim for you. Your dental insurance company will then pay you directly.
We believe you should be made aware in advance of the cost of treatment; no one likes surprises. We can help make dentistry affordable by suggesting options or, for major treatment, designing a payment program tailored to your needs. We'll help with financial arrangements and advise on insurance claims. Uninsured? If needed, we can make financial arrangements for any portion of your dental treatment that is not covered. We continually strive to do everything we can to get you the healthy smile you deserve!